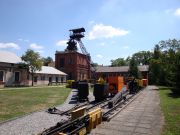 The largest mining museum in the Czech Republic, established in 1886 provides a tour of the Anna Mine, founded in 1789.
The tour starts in the registration-room of the Anna Mine with an exhibition on metallurgy and mineral processing.
From the courtyard you can enter the underground mine train ride with one of the deepest mines in Central Europe. The tour includes an underground tunnel that is also an example of historical mine. The tour continues in the Engineering Anna Mine technical monument, thesteam mining machine Breitfeld & Danek from 1914.
Another part of the tour begins in the lowest floor of the Registration-room of the Anna Mine, where you go underground with a special lift device. Visitors will see Wasserlauf - water floor. The Underground corridor in the length of 750m connects mine Anna with mine Vojtech.
The third part of the tour allows you to visit a unique chamber waterwheel. You will get to these underground spaces with a special lift similar to the one used for thetransport to Wasserlauf.
The tour is physically demanding (at the exit of the underground are 156 steps).