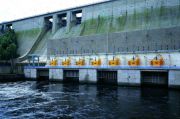 Water reservoir Orlík is apart of the Vltava cascade in southern and central Bohemia. It was built between 1954-1961 on the river Vltava. It bears the name of the castle Orlík, which once appeared on a rock above the deep valley of the Vltava River, and today is only a few meters above the dam lake. Orlik serves as a dam from 1960. In 1962 the plant became operational.
The Orlík Hydroelectric Power Station forms a fundamental part of the Vltava Cascade. The water reservoir, holding 720 million m2 of water, is the largest retention reservoir in the Czech Republic, and, together with the Lipno reservoir, it is crucial for the long-term water flow regulation of the Vltava River and the lower course of the Labe River.
The Orlík Hydroelectric Power Station participates significantly in regulating the country's power engineering system, and in generating inexpensive, environmentally clean peak-load electricity.
The regular excursion takes 45 – 60 minutes, but there is a possibility of a longer 2 hour tour. Included are excursions of the power plant and the dam.
This tour is suitable for families, company groups, school trips or individual tourists, but keep in mind that the dam and power plant are active industrial premises. Be careful. Follow the guide's instructions.