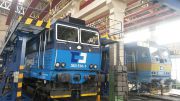 Škoda Transportation is a traditional Czech company engaged in the field of transport engineering, with a strong position in both domestic and world markets.
Škoda Transportation and its subsidiaries are focused on the transport engineering industry, its key products include low-floor trams, electric locomotives, subway trains, suburban train units and trolleybuses, as well as traction motors or complete driving gears for transport systems.
The Škoda Transportation group of companies has more than five thousand employees. Škoda experts develop, produce and supply top products customised to the needs and wishes of its customers.
Although the company's production schedule is crowded two days a week it gives for ordered groups the chance to look into the background of engineering. Accompanied by qualified specialists can future mechanical engineers or technicians or candidates from the professional community view the place from where the world is heading into modern trains, locomotives and trams.