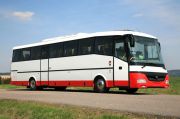 Company SOR Libchavy spol. s r.o. is an important Czech manufacturer of buses which offers modern type of buses and trolley buses, according to model series, even non-standard design, conforming the clients´ requests.
The company has business success both on the domestic and foreign market. It further provides service, repairs and sale of spare parts for SOR buses.
Visitors are going to assembly hall where buses are constructed and prepared for painting, complementing the chassis, engine, electrical wiring, installation of seats and trial operations.
The group is introduced to several types of company products and is informed about latest company successes at home and abroad.