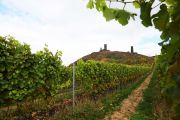 JOHANN W winery in Třebívlice is a beautiful, modern winery that produces wine that embodies hundreds of years of the Litoměřice vineyards history. It perfectly combines old-fashion procedures of making wine with modern technologies and logistics. And because it is newly build, it offers fantastic space for groups who want to taste wine and find out about the process of making this wonderful drink.
Tours are planned as so-called paths of the wine – you will have the unique opportunity to become a winemaker and participate in the whole wine production process, starting with receiving the grapes up to bottling the wine. Everything will take place in a state of the art winery using the latest modern technologies in combination with careful work with the hands and a love for winemaking itself. You will also uncover the secret love story between Johann Wolfgang Goethe and Třebívlice Baroness Ulrike von Levetzow, to which the JOHANN W brand is dedicated.
Tours are recommended for adult groups, but are suitable also for students, because wine tasting can be exchanged for stum tasting - degustation of drink made of fruit and vegetable like apple (different kinds), pear, beetroot, strawberry or carrot.
All ingrediences come from local farmers, therefore the quality of drinks and meals is superb. Including lunch or dinner menus, which are based on hundred years old recipes. It is no coincidence that Johann W winery was also visited by Czech President himself.