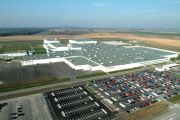 TPCA (Toyota Peugeot Citroen Automobile) is a joint venture between the Japanese company Toyota Motor Corporation (TMC) and French PSA Peugeot Citroen. The largest automaker in the world and Europe's leading TMC PSA signed a cooperation agreement in January, 2002. Urban Toyota Aygo, Peugeot 108 and Citroen C1 are assembled at Cologne began in February 2005.
Construction of the plant TPCA was twenty billion, which was until then the largest foreign greenfield investment in Central Europe. Currently the production of cars that are reliable and low power consumption, involved 3,000 employees.
The TPCA produces small cars maximally adapted to driving in heavy city traffic as triplets Toyota Aygo, Peugeot 108 and Citroen C1.
The group will see the production of a safe car made of pieces of steel. How many employees is needed for one shift and how long does it take to complete one car.