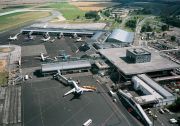 Are you technically oriented person fascinated by planes and entire airport system? Or are you just enthusiast who would like to see more from daily work inside and outside airport? Prague Airport named after first president of Czech Republic Vaclav Havel will let you see, what is behind your ordinary trips to wished destination.
All you need to do is to choose proper route you would like to visit as a group and you can let the rest on profesional airport guides who will always pick you up at Terminal 3 and show you entire area and working process of Prague Airport.
Route 1 is recommended for entrance level visitors (especially in big group up to 50 persons) as it takes you inside and outside of the daily work at the airport. For smaller (up to 25 persons), more technically oriented groups we recommend routes 2 and 5. Route 2 is oriented on exterior of the airport and fire rescue services. Route 5 on technical aspects of the daily work, including visit in czech airlines hangar and information about repairs and status check of the planes.