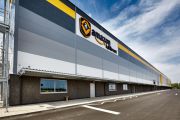 Have you ever wondered what happens after you click 'buy' on Amazon? Come and have a look for yourself by attending one of our public tours.
During the tour, visitors will have the chance to take a close look at the daily job of employees at work, as well as observing many of the key processes and technologies of the fulfilment centre, from picking – retrieving ordered items from the shelves – to packing, where items are carefully parcelled up in Amazon's famous brown boxes before being sent on their way to customers. The visit also touches on topic of modern technologies and processes, including protection of environment as Amazon supports ecological activities and implements solar systems and renewable energy to its daily process and considers using electric cars for transportation purposes.
We highly recommend combination with visit in nearby Glass factory in Nizbor (paid extra) to see alternative image of small local company with handwork tradition in contrast to big corporate company represented by Amazon. Nizbor visit also includes ECO topic as local employees use recycled materials and old fashioned techniques including nature gifts. Visit in Glass factory in Nizbor is possible also without visit in Amazon.