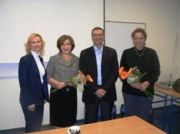 We can arrange different lectures, held by foreigners living in Prague or local Czech people. We have contact to several different people, who are experts on different subjects. The lecture will typically consist of a speech or introduction of 30-60 min, followed by the possibility to ask questions.
Subjects:
A) The social system. Maternity leave, school system, salaries, taxes, prices for renting flats and houses, social security, health service, retirement etc.
B) School system (extended), young in the Czech Republic, sport and leisure time.
C) Historical overview. The Czech history from 10th century to today, especially focused on the period after WW II, the Prague Spring, the Velvet Revolution. etc.
D) Business. How to establish and run a company in the Czech Republic today.
The price depends on the subject and the lecturer, but app. 3500 CZK for a lecture of 1-2 hours.