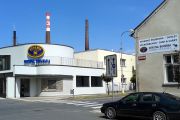 Crystal BOHEMIA was founded in 2008 in order to maintain and further develop the tradition of lead crystal production in Podebrady. This tradition dates back to the early 18th century, and over time influenced the entire world of glassmaking.
We can proudly say that Czech crystal is one of the best in the area.
During the excursion the history of the glassworks there will be shown a film about the production, then you will see the glassworks where all the magnificent crystal becomes reality, including grinding up glass decor.
At the end of the visit, you will be taken to the company store and receive a small gift.
The tour takes around 1 hour, including the company store.