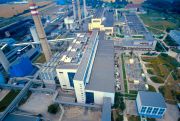 Power Plant Melnik is the nearest to the capital of Prague - it is situated, approximately, about 13 km below the Elbe and Vltava River confluence.
Formerly it consisted of three technology units (EME I, EME II, EME III), constructed in stages between the end of 60's and the end of 70's, as a system of condensing power plants burning brown coal transported by trains from both North Bohemia and West Bohemia mines.
The visit consists mostly of technology of Melnik II and Melnik III parts of the Power Plant.
The guided tour starts with a short verbal excursion into the history of the site, thus beginning the year of construction and the subsequent development up to the present day.
Then the group goes to the engine room to see the turbine hall with turbogenerator. Followed by a visit of the power plant operators in their control room.