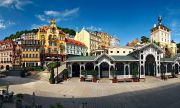 Karlovy Vary is the most famous spa town in the Czech Republic. It is known for the 12 mineral springs.
It's history dates back to the 14th century and throughout history many of the most important, European personalities have visited the town. We can mention Russian tsars, English kings, many of the great composers and Goethe.
We will take a walk through the town, passing some of the impressing colonnades, with the possibility to taste the mineral water from some of the springs. In the middle of town we get to the most famous of them - Vridlo, it rises to a height of 14 meters.
Our driver will lead you to a cosy restaurant for a nice lunch.
Karlovy Vary is also known for the production of crystal in the Moser glass factory, the Thun porcelain and for the Czech national spirit, the Becherovka, which is a herb liqueur of 38 % alcohol. We offer you a tour in the factory and some samples of this excellent drink.