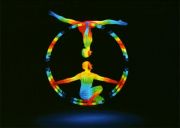 In our culture evening we are in the theater to see the famous black-light theater. This genre is originally from the East and has really taken hold in the Czech Republic.
The evening begins as we take you to a really nice Czech restaurant in the center, where we start with a glass of Czech champagne followed by a delicious three-course dinner with a drink. Then we go to the theater to watch a breathtaking beautiful and colorful show with black light effects that Prague is so famous for. The show is without words and therefore also an unforgettable evening for children. Black-light theater originated from the East, but Prague is one of the few places in Europe where you can experience it.
It is a breathtaking beautiful and very colorful show with lots of black-light effects that this theater form is so famous for. In front of the stage there are some actors who perform a traditional fun with comedy, mime and sketches, but without words, so everyone can easily understand what it is about. Sometimes there are features where other actors appear, dressed entirely in black. Due to the very special light effects - black light - you can not see these actors, but one can easily see the paraphernalia that they have on stage.
The price incl dinner, ticket for theatre and pick up service