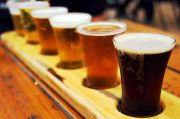 On this pubcrawl it is obvious, that we will enjoy a lot of the excellent, world famous Czech beers. We will visit some of the typical, local pubs in the narrow side streets, where the waiters manage to serve two handfulls of big beers in one go. We will start the tour with the local spirit, Becherovka, which is a mixture between schnaps and liqueur, and then we will visit a number of bars to check out some of the many different kinds of tasty beer.
As there will be no time to have dinner on the tour, so please don't show up hungry.
Price: 450 CZK per person. Min. 10 persons.
The price includes guide, Becherovka and beers during the tour.