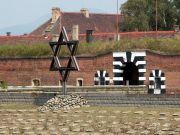 The former military fort Terezin was built in 18th century by emperor Josep II. It is inherently connected to the history of World War II. Better known as the Big Fort - the town of Terezin itself was used as a transit camp for Jews from all over Europe and at the same time during the visit of the International Red Cross Organization it was misused for Nazi promotion purposes.
The Small Fort Terezin was a cruel prison of Gestapo - Reich's secret police. If you are interested in the history of World War II and Holocaust then join us for a visit in Terezin and its museum.
We will give you a one hour guided tour in the Small Fortress - the former Gestapo prison. We will show you some of the cells, the firing squad and the mass graves. We will go through a 500 m long tunnel, too. Then will drive to the town Terezin and visit the Ghetto Museum, where you can see a movie about the history of the fortress and learn more about what happened during World War II.