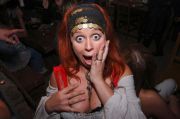 We will take you to the medieval restaurant, which is situated on the King's Road, by the stairs, that are leading to the castle. This cosy, arched restaurant has uninterruptedly been a tavern since 1475 and is one of the very oldest in Prague. The lower cellar is haunted by ghosts begging for more beer.
You will have a medieval dinner, consisting of a starter, main course with different kinds of meat and garnish, ending with some cake for dessert. You will eat this dinner just like they did in the Middle Ages. To that one beer or one soft drink.
During and after dinner you will struggle with the naughty waiters and you will attend a big medieval program with swordsmen, belly dancers, fakir with fire and live medieval music. All actors are dressed in medieval costumes. The restaurant is lit by torches and candles only.
Our driver will pick you up at your hotel and bring you back after the show.