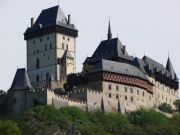 Karlštejn is located approximately 35 km outside Prague. It takes about 45 min. to drive to the small town where the castle Karlštejn is situated on the top of the hill.
The castle was built by Emperor Charles IV in the mid-1300s as a repository of the precious crown jewels and the many relics, and is one of the most important places of Czech history.
You have about three hours on your own, where you can choose to walk or drive in the minibus or carriage to the castle. From there you can walk down the hill and you will find a lot of souvenir shops and crystal shops, which are much cheaper than in Prague. Along the way, you can enjoy a nice lunch in one of the many excellent and extremely cheap restaurants.
Karlštejn is located in a scenic area by the river Berounka.