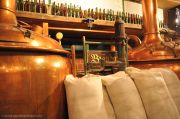 On this tour we will meet on Novomestsky pivovar - the New Town Brewery, which is a micro brewery and restaurant with as much as 400 seats.
We will offer you a beer or a soft drink and then the guide will learn you about beer and beer brewing for about 30 min. He will tell you about the brewing methods, where the malt is poured into the big copper kettles and heated to 70 degrees. After that the hops are added, which gives the beer the taste and especially the bitterness. At last the yeast is added, which converts the sugar from the malt into alcohol.
We will also tell you a lot about some of big breweries in the Czech Republic like Pilsner Urquell and Budweiser, as well as you will be entertained with the Czech beer traditions in the old traditional pubs.
After this lecture we will show you around in the brewery, where we will see the big copper kettles, which are placed in the middle of the restaurant. We will tell you more about the brewing methods, and you will have the chance to see, smell and taste the different ingredients like malt and hops. Thereafter we will visit the open fermentation vessels, where we can see the beer with fine, white foam, caused by the fermentation. The last stop on the tour will be the lager tanks, where the beer is matured for more than 40 days
We can recommend you to combine the tour with lunch or dinner in the cozy restaurant.