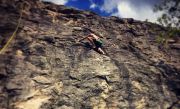 Enjoy Adventure Day full of sport activities outside Prague. Our Adventure Day consists of cycling and climbing during which the group enjoys the nature of the Czech Republic near Prague. At the end of the day the group enjoys a grill party.
The group will leave Prague in the morning around 07.30. After 1 hr driving the group will arrive to Hýskov. Professional instructors will meet, greet and be with the group the whole day. The day will start with 1 hour full instructions and preparation. After that the kayaking on the Berounka river from Hýskov to Srbsko app. 10 km will begin.
13:00 Lunch in a nice restaurant with a view on the river (soup, chicken steak with potatoes, dessert and a drink)
14:00 Climbing and cycling program: the group is split into two groups to your preferences - a climbing group and cycling group.
The climbing group will be climbing in an old stone quarry with easy as well hard routes. There is a lot of routes so there is no delay between climbing. Possibility to try slackline too.
Cycling group: Cycling around Karlštejn Castle.
18:00 Grill party next to the rock where the climbing group was climbing – possibility to try to climb some routes for the cycling group
20:00 Adventure day ends - back to Prague
Its possible to hire a professional photographer to join the tour.